February 19, 2007 -- 17 members met to stuff 45 "Heart Pillows", which had been pre-cut/pre-sewn by members ... an additional 25 pillows are ready for stuffing at a later date.
These pillows will be donated to a local health care facility for use by heart surgery patients.
Members displaying some of the finished pillows.

~~~~~~~~~~~~~~~~~~~~~~~~~~~~~~~

Below: Members in various stages of stuffing

and "closing" the pillows
Have you, or someone you cared about, ever had major heart, chest, gall bladder etc surgery where it really HURT to cough or sneeze ... or even laugh?
Patients press these pillows to their chest to help with those pains ... they really do help!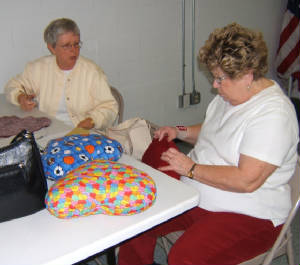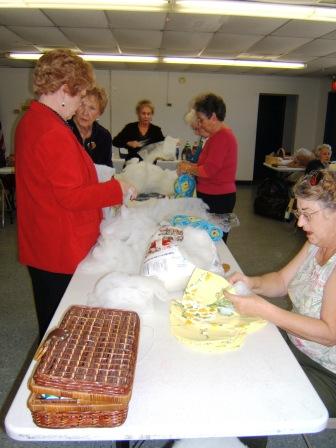 BELIEVE ... ACHIEVE ... THE BEST IS YET TO BE!
With the challenge of strengthening the UNITY
and widening the DIVERSITY
in the General Federation (GFWC),
the theme for the administration will be:
GFWC ... Empowering Women ... One by One