B U T T E R F L Y U P D A T E ...
Many thanks for all the hard work
(planting/watering/weeding)
our club Garden Coordinator,
Barbara Plakke,
(with various helpers)
has put into the Butterfly Garden
Sponsoring a Butterfly Garden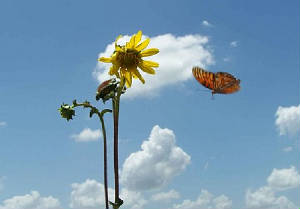 at PEAR Park
Do you see "our" BUTTERFLY ... among the Florida natural plantings? June 2006
PEAR = Palatlakaha Environmental & Agricultural Reserve
Off US27 south of Leesburg
(Lake County), FL
The PEAR Association was formed to protect an environmentally sensitive property from commercial and residential development. It will encompass 318 acres when ongoing acquisition is completed.
Current PEAR projects include a 1.3 mile hiking trail, a dog park, 600 trees have been planted around the park and a scrub jay/gopher tortoise habitat is under development.
The Butterfly Garden (50'x135'x50'x55') is a club project, working with the PEAR Association, an Eagle Scout group and other local volunteers, using only plants native to Central Florida. A GFWC grant was applied for and awarded in the amount of $49.11 and was received on 4/26/05.
Members have "worked" the Garden for two years ... the time appropriated by the club for support. Now the PEAR Association will incorporate it into their total plan for the Park, and members will continue to help with it as time allows.
~~~~~~~~~~~~~~~~~~~~~~~~~~~~~~~~~~~~~~~~~~~~~
Scrapbook Editor is holding the RED ribbon
won at FFWC Fall Board on our entry
in the "computer generated" category -- Sept 29, 2006
"THINGS THAT MAKE US SMILE"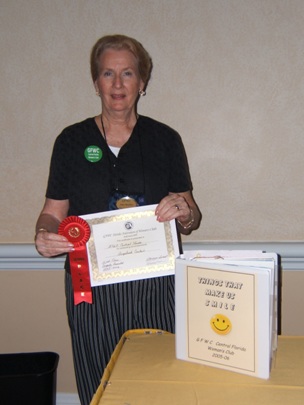 ~~~~~~~~~~~~~~~~~~~~~~~~~~~~~~~~~~~~~~
"Start with the Arts" Program
for Pre-K kids
5th Annual
DAY IN THE PARK
at Hickory Point Recreation Complex
just North of Howey Bridge
Friday, October 31, 2008
9 AM - 1 PM
Photos at left are from 2006 participation
CFWC was one of MANY community
organizations who volunteered
to help with the 40 Arts Stops
where the children make
and take their creations.
The committee for the
Start with the Arts Program
lauds and thanks all
who have joined hands
for this celebration
to proclaim the importance
of our children and
to punctuate the need
for a quality educational program
that includes the arts
in our schools.
2006, 2007- 800 Pre-K children participated.
10 CFWC members volunteered (both years).
2008 - 900 children -- 12 CFWC volunteers